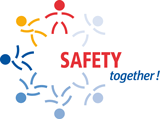 Protect coworkers from deadly distractions. Improve your own safety awareness. Have no regrets. These are just a few reasons why you should maintain a close watch on your fellow employees and ensure they are working safely.
Here are five reasons employees should watch out for each other's safety:
1. When you keep an eye on other people's safety, your own safety awareness improves.
2. Even "safe" workers can get distracted.
3. We're all at risk of occasional cognitive failure.
4. You'll never have to regret that you could have said something but didn't.
5. It's just the right thing to do.
via Safety 2012: Be Your Coworker's Keeper | Safety content from EHS Today.