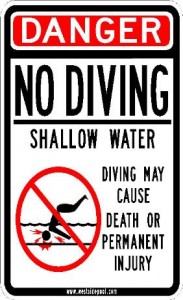 Diving tips:
Don't ever dive into shallow water. Before diving, inspect the depth of the water to make sure it is deep enough for diving.  If diving from a high point, make sure the bottom of the body of water is double the distance from which you're diving.  For example, if you plan to dive from eight feet above the water, make sure the bottom of the body of water, or any rocks, boulders or other impediments are at least 16 feet under water.
Never dive into above-ground pools.
Never dive into water that is not clear, such as a lake or ocean, where sand bars or objects below the surface may not be seen.
Only one person at a time should stand on a diving board.  Dive only off the end of the board and do not run on the board.  Do not try to dive far out or bounce more than once.  Swim away from the board immediately afterward to make room for the next diver.
Refrain from body surfing near the shore since this activity can result in cervical spine injuries, some with quadriplegia, as well as shoulder dislocations and shoulder fractures.
via Safety First – Before Diving into Summer Headfirst | Virginia Orthopaedic & Spine Specialists.