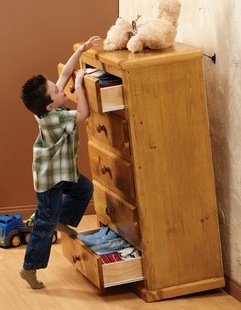 Top safety tips to help prevent tip-over hazards
If a piece of furniture is unstable or top-heavy, secure it to a stud in the wall using brackets, braces, anchors or wall straps. Large items such as TVs, microwaves, fish tanks, bookcases, heavy furniture and appliances can topple off stands and fall on children.
If you have a newer, flat screen TV, make sure it's properly anchored to the wall.
Read the manufacturer's instructions for tips or warnings regarding placement of your TV or furniture.
Keep heavier items on lower shelves or in lower drawers.
Don't keep remote controls, candy, toys or other items that attract children on top of furniture, as your child might be enticed to reach for these items.
Supervise young children at all times.