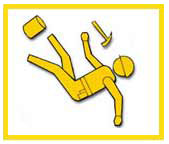 A national campaign to prevent construction-worker falls was launched recently. The campaign encourages everyone in the construction industry to work safely and use the right equipment to reduce falls.  Special emphasis and activity will focus on residential construction contractors and workers.
FACT – FALLS KILL!
Falls are the number one cause of construction-worker fatalities, accounting for one-third of on-the-job injury deaths in the industry.
To turn this problem around, we need to promote the use of fall prevention practices by contractors and construction workers.
via CDC – Directory of NIOSH Construction Resources – Campaign to Prevent Falls in Construction.