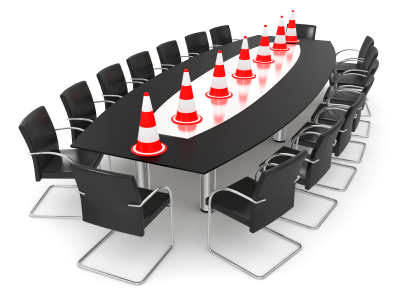 Health and Safety Committee meetings should be held regularly on a specific day and time and at least on a quarterly basis (i.e. the first Thursday of each month/quarter at 8:30 A.M.). New committees should consider meeting on a more frequent basis. When a meeting schedule is planned well in advance, the members are then in a better position to arrange for their attendance and prepare for discussion.
A typical Committee meeting should include:
Review of unfinished items from the previous meeting(s) and/or activities.
Status reports from any sub-committees.
Discussion/review of safety inspection reports and the actions taken to correct observed hazards.
Review of accident/incidents sustained since the previous meeting and a discussion of measures to prevent similar accidents and incidents.
Review of the status of current action plans or training programs.
Review of outstanding recommendations developed by outside loss control consultants and/or Department of Commerce health and safety compliance inspectors.
Discussion about activities related to future action plans and/or training programs.
Discussion about special activities such as health fairs.
Discussion about new business, future agenda items, projects and meeting dates.