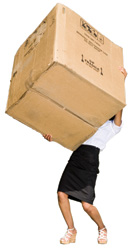 Injuries related to overexertion account for over 3 million hospital visits a year. Most of these injuries are preventable. Use your head; avoid pushing your body past its limits.
Physical Overexertion
According to the National Safety Council (NSC), physical overexertion is the most common cause of workers compensation claims. These types of injuries usually occur through repetitive motion such as typing, lifting heavy objects, or working in an awkward position. The pain is often acute, though it will decrease after medical care and preventative measures are taken. However, if the overexertion is constant, acute pain can become chronic, leading to problems such as carpal tunnel syndrome and osteoarthritis.