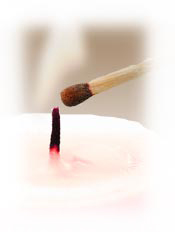 Candles start almost half of all home fires related to decorations.  Minimize your risk with these candle safety tips:
Avoid using candles when possible.  Consider using battery-operated candles in place of traditional candles.

Never leave an open flame unattended.  Keep burning candles within sight.

Place lighted candles away from combustible material such as other decorations and wrapping paper.

Take care to place candle displays in locations where they cannot be knocked over.

Never use lighted candles on a tree or near other greenery.

Extinguish all candles before you go to sleep, leave the room, or leave the house.
via Candle Safety Tips – 2012 Holiday Survival Guide – ESFi :: Electrical Safety Foundation International.