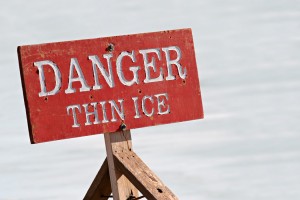 Ice Thickness
It is important to remember that there is no such thing as 100% safe ice! Many factors affect the strength of ice besides thickness.
Thawing and refreezing

Pockets of air can form under the ice on lakes where the water levels are raised and lowered by flood control.

Ice seldom freezes uniformly

The insulating effect of snow slows down the freezing process

Ice formed over flowing water and currents is often dangerous

Schools of fish moving warm water up can open holes in the ice
Here are some guidelines for determining if the ice is safe:
4" of new clear ice is the minimum thickness for travel on foot

5" is the minimum for snowmobiles and ATVs

8"-12" for cars or small trucks

Check with a local resort or bait shop for known thin ice areas.

Refrain from driving on ice whenever possible.
A minimum of five inches of ice is recommended for safe enjoyment of ice skating, ice fishing, ice boating and snowmobiling on state park lakes. However, even if the ice is several inches thick, ice-covered water is never completely safe.
via Winter Ice Safety.