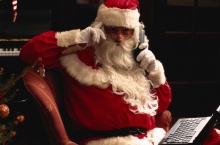 Santa Claus has announced the appointment of a Christmas Risk Officer CRO as part of a coordinated plan to maintain resilience at Grotto SE, the North Pole based toy manufacturing plant, as well as Claus' flying sledge-based global distribution facility.
Mrs Santa Claus is believed to be unhappy about the appointment of the new CRO but accepts that someone has to do it if clients' confidence in Christmas is to be retained. Sources say that, in line with other big company CEOs, Santa Claus is increasingly concerned about linked risks to do with brand and reputation, as well data security.
via Santa Claus CRO strengthens Lloyd's links – Market News – Lloyds.