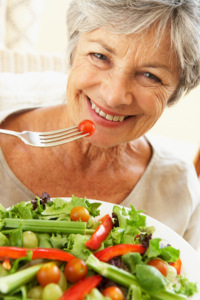 As you age, your relationship to food may change along with your body. A decreased metabolism, changes in taste and smell, and slower digestion may affect your appetite, the foods you can eat, and how your body processes food. The key is to figure out how to adapt to your changing needs. Now, more than ever, healthy eating is important to maintain your energy and health.
Load up on high-fiber fruits, vegetables, and whole grains. Your whole digestive system does slow as you age, so fiber is very important. Consume fiber-rich foods such as whole grains, fruit, and vegetables. They will help you feel more energetic and give you fuel to keep going.
Put effort into making your food look and taste good. Your taste buds may not be as strong and your appetite may not be the same, but your nutritional needs are just as important as ever. If you don't enjoy eating like you used to, put a little more effort into your meals, including the way you flavor, prepare, and present your food.
Watch out for dehydration. Because of physical changes, older adults are more prone to dehydration. So make sure you are drinking plenty of fluid, even if you don't feel thirsty. If you're not getting enough water, you're not going to be as sharp and your energy will suffer.
Make meals a social event. It's more enjoyable to eat with others than alone. If you live alone, invite other people over. It's a great way to stay in touch with friends and you can share cooking and cleanup duties.
via Staying Healthy Over 50: How to Feel Young and Live Life to the Fullest.