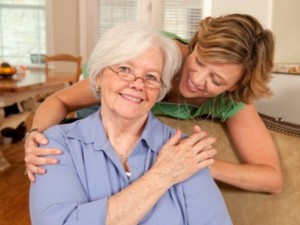 Here are five questions everyone over 50 with aging parents should ask themselves now:
How are Mom and/or Dad REALLY doing? – Are they struggling to do everyday chores, is driving becoming a hazard, do they have medical conditions you don't know about? Are they getting enough socialization and exercise to stay healthy?
Do they need help? – Seniors often hesitate to ask their children for the help they need, so ask them for an honest assessment of their needs. And ask yourself: how will you balance their needs with the demands of your children, your job, your life?
How can I help? – A quick visit once a week may not be enough. Figure out how you might help. Driving them to a medical appointment? Checking on that leaky faucet? Giving them a quick lesson on how to use email or Facebook?
Have they looked at other living options, besides staying at home? – Some seniors are reluctant to give up their home, but can no longer handle the costs and maintenance involved in keeping up a private residence. Have they looked into senior living options that would provide support and freedom, like a Continuing Care Retirement Community? They may not be aware of the myriad of choices beyond moving in with you or going to a traditional nursing home.
Do I know their wishes? – Don't assume you know how your parents want to deal with end-of-life care. Do they have living wills? Where is their medical paperwork?
Asking yourself these questions now is a lot easier than when there's a crisis. Most adult children delay or avoid altogether an honest discussion with parents about senior care options, until a fall or other medical calamity creates very limited options.
via 5 Questions Everyone With Aging Parents Needs To Ask | Justine Vogel.