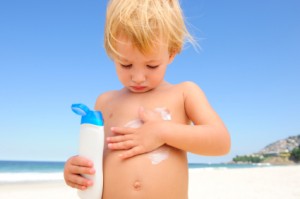 Nothing can completely undo sun damage, although the skin can sometimes repair itself. So, it's never too late to begin protecting yourself from the sun. Follow these tips to help prevent sun-related skin problems:
Apply sunscreen with a sun protection factor (SPF) of 30 or greater at least 30 minutes before sun exposure and then at least every 2 hours thereafter, more if you are sweating or swimming
Select cosmetic products and contact lenses that offer UV protection
Wear sunglasses with total UV protection
Wear wide-brimmed hats, long sleeved shirts, and pants
Avoid direct sun exposure as much as possible during peak UV radiation hours between 10 a.m. and 2 p.m.
Perform skin self-exams regularly to become familiar with existing growths and to notice any changes or new growths
Eighty percent of a person's lifetime sun exposure is acquired before age 18. As a parent, be a good role model and foster skin cancer prevention habits in your child
Avoid tanning beds
via Sun Safety Tips.