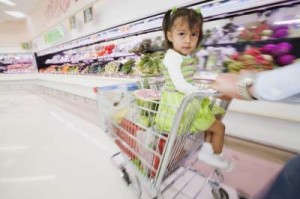 There are definitely some things you should put in your shopping cart in the name of your child's health and well-being. Your precariously placed child should not be one of them—especially given that more than 20,000 children a year are treated in US emergency departments for reported shopping cart–related injuries! A majority involve either shopping carts tipping over or sudden falls that occurred within the presence of a watchful adult. To play it safer, consider alternatives to toting your kids around in shopping carts, such as the use of a stroller, wagon, baby carrier, or sling; getting your child to walk the aisles; leaving them at home with appropriate supervision, of course; or even shopping online. If you do choose to cart your child, look for the kid-friendly carts that are low to the ground and often conveniently fashioned after fire trucks or race cars. Also buy in to the following rules, which bear a striking and necessary resemblance to those used on just about every amusement park ride we've ever been on.
Buckle Up. All children should be securely buckled up before the ride begins.
Remain Seated. Children should remain seated at all times.
In It for the Ride. No one is to ride on the outside of the cart or the ride will come to an immediate halt.
Keep Contained. All hands and feet are to be kept inside the cart at all times.
Drive Responsibly. Only responsible adults should be in charge of operating the ride.