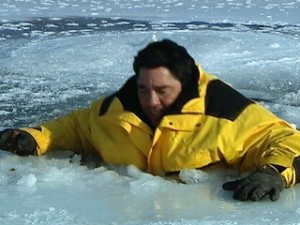 What to know about ice:
You can't always tell the strength of ice simply by its look, its thickness, the temperature or whether or not it is covered with snow.
Clear ice that has a bluish tint is the strongest. Ice formed by melted and refrozen snow appears milky, and is very porous and weak.
Ice covered by snow always should be presumed unsafe. Snow acts like an insulating blanket and slows the freezing process. Ice under the snow will be thinner and weaker. A snowfall also can warm up and melt existing ice.
If there is slush on the ice, stay off. Slush ice is only about half as strong as clear ice and indicates the ice is no longer freezing from the bottom.
Be especially cautious in areas where air temperatures have fluctuated. A warm spell may take several days to weaken the ice; however, when temperatures vary widely, causing the ice to thaw during the day and refreeze at night, the result is a weak, "spongy" or honeycombed ice that is unsafe.
The DNR does not recommend the standard "inch-thickness" guide used by many anglers and snowmobilers to determine ice safety. A minimum of four inches of clear ice is required to support an average person's weight on the ice, but since ice seldom forms at a uniform rate it is important to check ice thickness with a spud and ruler every few steps.