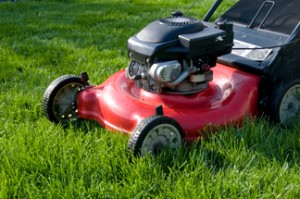 While mowing:
Wear sturdy closed-toe shoes with slip-proof soles, close-fitting clothes, safety goggles or glasses with side shields, and hearing protection.
Watch for objects that could be picked up and thrown by the mower blades, as well as hidden dangers. Tall grass can hide objects, holes or bumps. Use caution when approaching corners, trees or anything that might block your view.
If the mower strikes an object, stop, turn the mower off, and inspect the mower. If it is damaged, do not use it until it has been repaired.
Do not pull the mower backwards or mow in reverse unless absolutely necessary, and carefully look for children behind you when you mow in reverse.
Use extra caution when mowing a slope. When a walk-behind mower is used, mow across the face of slopes, not up and down, to avoid slipping under the mower and into the blades. With a riding mower, mow up and down slopes, not across, to avoid tipping over.
Keep in mind that lawn trimmers also can throw objects at high speed.
Remain aware of where children are and do not allow them near the area where you are working. Children tend to be attracted to mowers in use.