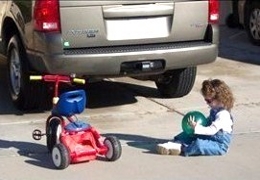 Preventing "Backover" or "frontover" tragedies
Danger can come from any direction, and parents must be aware of the risk of "backover" or "frontover" incidents. Many of these preventable injuries and deaths occur in driveways or parking lots when drivers are unaware children are near vehicles. Tragically, these drivers are often family members or friends of the injured child.
Parents, caregivers, drivers, and kids can all do their part to make sure that children do not share the same space as vehicles.
Walk all the way around your parked vehicle to check for children – or anything that can attract a child like pets or toys – under or behind your vehicle before getting in and starting the engine.
Accompany young children when they get in and out of a vehicle.
Identify and use safe play areas for children away from parked or moving vehicles. Block driveways so cars cannot enter and exit.
Designate a safe spot within a driver's sight for children to wait when nearby vehicles are about to move.
Firmly hold the hand of each child when walking near moving vehicles and when in driveways, in parking lots or on sidewalks.
via Spot the Tot.