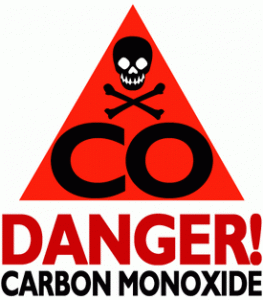 Carbon monoxide (CO) is a colorless, odorless, and toxic gas, which is predominately produced by incomplete combustion of carbon-containing materials. Incomplete combustion occurs when insufficient oxygen is used in the fuel (hydrocarbon) burning process. Consequently, more carbon monoxide, in preference to carbon dioxide, is emitted. Some examples of this are the following: vehicle exhausts, fuel burning furnaces, coal burning power plants, small gasoline engines, portable gasoline-powered generators, power washers, fire places, charcoal grills, marine engines, forklifts, propane-powered heaters, gas water heaters, and kerosene heaters.
Exposure to carbon monoxide impedes the blood's ability to carry oxygen to body tissues and vital organs. When carbon monoxide is inhaled, it combines with hemoglobin (an iron-protein component of red blood cells), producing carboxyhemoglobin (COHb), which greatly diminishes hemoglobin's oxygen-carrying capacity. Hemoglobin's binding affinity for carbon monoxide is 300 times greater than its affinity for oxygen. As a result, small amounts of carbon monoxide can dramatically reduce hemoglobin's ability to transport oxygen. Common symptoms of carbon monoxide exposure are headache, nausea, rapid breathing, weakness, exhaustion, dizziness, and confusion. Hypoxia (severe oxygen deficiency) due to acute carbon monoxide poisoning may result in reversible neurological effects, or it may result in long-term (and possibly delayed) irreversible neurological (brain damage) or cardiological (heart damage) effects.
Carbon monoxide exposure can be dangerous during pregnancy for both the mother and the developing fetus. Please contact CDC-INFO (800-232-4636) if you have any questions regarding carbon monoxide exposure during pregnancy.
via CDC – Carbon Monoxide – NIOSH Workplace Safety and Health Topic.