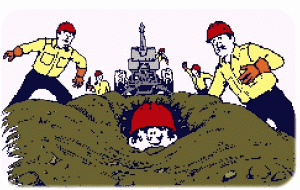 Excavation and trenching are among the most hazardous construction operations. OSHA defines an excavation as any man-made cut, cavity, trench, or depression in the earth's surface formed by earth removal. A trench is defined as a narrow underground excavation that is deeper than it is wide, and is no wider than 15 feet (4.5 meters).
Dangers of Trenching and Excavation
Cave-ins pose the greatest risk and are much more likely than other excavation related accidents to result in worker fatalities. Other potential hazards include falls, falling loads, hazardous atmospheres, and incidents involving mobile equipment. Trench collapses cause dozens of fatalities and hundreds of injuries each year.