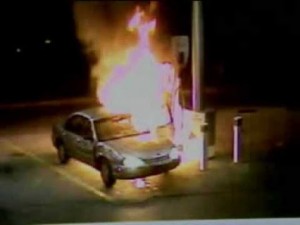 Static electricity-related incidents at retail gasoline outlets are extremely unusual, but the potential for them to happen appears to be the highest during cool or cold and dry climate conditions. In rare circumstances, these static related incidents have resulted in a brief flash fire occurring at the fill point. Consumers can take steps to minimize these and other potential fueling hazards by following safe refueling procedures all year long.
Most important, motorists should not get back into their vehicles during refueling. It may be a temptation to get back in the car for any number of reasons. But the average fill-up takes only two minutes, and staying outside the vehicle will greatly minimize the likelihood of any build-up of static electricity that could be discharged at the nozzle.
A build-up of static electricity can be caused by re-entering a vehicle during fueling, particularly in cool or cold and dry weather. If the motorist then returns to the vehicle fill pipe during refueling, the static may discharge at the fill point, causing a flash fire or small sustained fire with gasoline refueling vapors.
Motorists who cannot avoid getting back into the vehicle should always first touch a metal part of the vehicle with a bare hand, such as the door, or some other metal surface, away from the fill point upon exiting the vehicle.