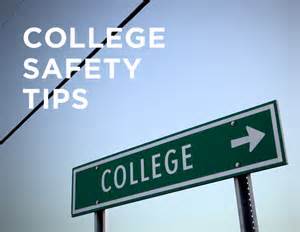 If you're helping your son or daughter pack-up for college, tuck these tips into their suitcase to help them stay safe on campus:
Most campuses have a "panic phone" system. Know where these are.
Have a safety buddy, someone you can call for a ride or for help, and create a code word or phrase that means "Come help me out of this" or "I'm in trouble."
Before going to a party, tell a friend where you're going and when you'll be back. Let them know if your plans change.
Take turns being a designated driver or sober companion. You could save someone's life.
If a party gets out of hand, leave!
Never, ever leave your drink alone or with someone you don't know. Date rape drugs are easy to use. And men are just as vulnerable as women.
Don't take drinks or anything else from strangers, even food.
Don't ride with drunk or drugged drivers.
Don't offer rides to people you don't know.
Trust your instincts!
And here's what parents can do:
Ask the college administrators about campus alcohol policies.
Talk to your kids about the legal penalties for underage drinking.
Discuss the possible consequences of drinking, including date rape, violence and school interference.
Know your child's roommate and living arrangements.
Call your son or daughter frequently.
via 10 Personal Safety Tips for College Students | SafetySmart Xchange.