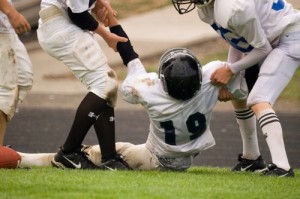 It is not always easy to know if someone has a concussion. You don't have to pass out (lose consciousness) to have a concussion.
Symptoms of a concussion range from mild to severe and can last for hours, days, weeks, or even months. If you notice any symptoms of a concussion, contact your doctor.
Symptoms of a concussion fit into four main categories:
Thinking and remembering
Not thinking clearly
Feeling slowed down
Not being able to concentrate
Not being able to remember new information
Physical
Headache
Fuzzy or blurry vision
Nausea and vomiting
Dizziness
Sensitivity to light or noise
Balance problems
Feeling tired or having no energy
Emotional and mood
Easily upset or angered
Sad
Nervous or anxious
More emotional
Sleep
Sleeping more than usual
Sleeping less than usual
Having a hard time falling asleep
via Concussion: Causes, Symptoms, Diagnosis, Treatment, and Prevention.