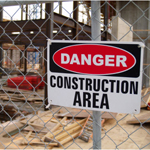 There were 3.3 million nonfatal injuries and illnesses reported across all industries in 2009, of which almost 95 per cent were injuries and just over 5 per cent were illnesses. More than 9 per cent of the nonfatal illnesses and injuries requiring days away from work were experienced by construction workers (92,540).  Construction workers reported 4.3 nonfatal injuries and illnesses per 100 full-time workers.
Falls accounted for more than one in every five of these injuries and illnesses (22%). Construction laborers experienced the seventh-highest rate of nonfatal injury and illness requiring days away from work of all occupations (382 per 10,000 full-time workers). Hispanic/Latino workers experienced nonfatal injuries and illnesses disproportionately, with almost one-fifth of cases (19%).
via CDC – Construction Safety and Health – NIOSH Workplace Safety and Health Topic.