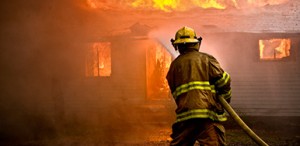 More than 3,400 Americans die each year in fires and approximately 17,500 are injured. An overwhelming number of fires occur in the home. Many are started by alternative heaters. Here are a few tips to keep you and your family safe.
Portable heaters need their space. Keep anything combustible at least three feet away.
Keep fire in the fireplace. Use fire screens and have your chimney cleaned annually. The creosote buildup can ignite a chimney fire that could easily spread.
Kerosene heaters should be used only where approved by authorities. Never use gasoline or camp-stove fuel. Refuel outside and only after the heater has cooled.